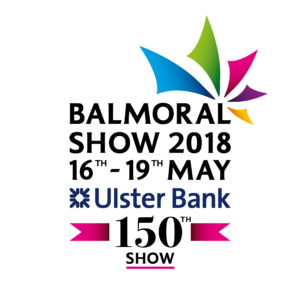 Randalstown Young Farmers Club Win at Floral Art Final at Balmoral Show 2018
As a local business we are delighted to support local young people. One way we do this is by sponsoring Randalstown Young Farmers Club hoodies. We have a special relationship with Randalstown Young Farmers Club, as Kathryn's three children have been dedicated members for a number of years.
The highlight of the Young Farmers' calendar is, without a doubt, Balmoral Show. This year was no exception as this landmark agricultural event celebrated its 150th Show!
Members of the Young Farmers Clubs of Ulster not only attended the Balmoral Show, but participated in many events and competitions. These ranged from sheep shearing to tug of war.
One such competition was the Floral Art Finals. We are delighted to announce that our Stores Apprentice, Gemma Dickey, was awarded First Prize in the 21-25 years age category. This was a tough competition with competitors putting together a display live at the event with a theme of "Duet".
Under the watchful eye of Judge Karen Frew, competitors showed off their creativity and flair as they delicately placed flowers, foliage and other accessories to craft stunning arrangements. Over 400 competitors had taken part in the Floral Art heats and it was a remarkable achievement for the finalists to showcase their artistic ability at the prestigious agricultural event.
Well done Emma,Gemma and Sarah, you have been excellent ambassadors for Randalstown Young Farmers Club we are so proud of you!
You can find out more about the Young Farmers Clubs of Ulster here.
You can find out more about the Balmoral Show here.
Follow TTP on Facebook, Instagram and our Website for more news!